I'm gaining a reputation as a professional field trip-taker, and I suppose that's not far off the truth. For the past several years, I've gone to both Kenya and the Isles of Scilly with University of Exeter biosciences students; this year I've added in geography trips to Wadebridge, Gylly Beach, Penryn, and, most recently, California. If you know your geography, you'll notice that the last of those geography trips is much more exciting than the rest.
Stormy Gyllyngvase Beach during one of several geography field trips this spring
Because I like to make my trips as eventful as possible, I scheduled a public speaking engagement the night before my departure to Los Angeles. Rather than being a burden, this ultimately came in handy: After my talk, I spent the night in nearby Exeter, thus shaving 2 hours off my train journey to Heathrow on the day of my flight.
Unfortunately, I began the trip with an infuriating incident at the Exeter train station. After waiting in line forever at the cafe, and being the person who
should
have been helped next, I was refused service because the woman behind the counter thought I had jumped the queue. I hadn't; I had merely been standing in an unconventional location because I was trying to keep my massive bag out of everyone's way. In my righteous fury, I angrily explained the situation and then threw my food at her before stalking off to make my train. Unfortunately, this left me not only indignant, but also breakfastless.
Later on in the day, I decided that the best way to combat my lingering feeling of anger was to do something nice for a random stranger. So it was that I found myself giving up my airplane seat--which I had specifically chosen when booking the flight months before--in order to allow two young sisters to sit together. I was thanked profusely by both the girls and their mother, which pretty well cured me of the residual ill will left by my morning encounter.
I had an unusually productive flight considering my usual propensity to succumb to motion sickness. I finished a book I'd been reading in preparation for the field trip, then wrote a review of it for
Current Conservation
magazine. I then finished a sci-fi novel that I had begun reading months ago, after which I made a start on its sequel. Once my eyes needed a rest, I switched to movies, watching both
Hotel Transylvania
and
Rise of the Guardians
(for some reason I always choose animated films when I fly).
The British countryside as seen during my train ride from Exeter to London
As you might imagine, I was pretty exhausted when I reached LAX, and yet also strangely energetic; for some reason I was feeling unusually excited about being back in my homeland. I was even thrilled when I broke a sweat lugging my bag to the taxi rank; on my way to Heathrow it had been snowing, and here I was actually
hot
! I don't ordinarily like the US
that
much more than my adopted country, and I've always been particularly ambivalent (or even negative) about California. I think maybe my feelings were influenced by the fact that I was surrounded by a group of Brits with little experience with America or American culture. I felt kind of like a ringmaster waiting to reveal a jaw-dropping circus act.
When I reached my hotel (the LAX Radisson), I discovered that it was in the midst of hosting an all-night St. Patrick's Day party in its penthouse. The lobby was full of people wandering around in ridiculous green clothing; there was even one guy with a zoot suit and glittery green top hat. Since I was not appropriately attired and, more importantly, had been awake for about 24 hours straight, I just headed to my room.
My room at the Radisson LAX
Upon arrival, I discovered one of the most spacious suites I've ever been given. It looked as though it had once had two double beds but now possessed only one. A small part of me
really
wanted to make use of all that floor space by doing yoga or Pilates or something. In the end, though, I decided to just have a shower, eat my dinner, and go to sleep. Maybe not as healthy, but definitely more sane.
The problem with crossing both the Atlantic
and
the entire continental US in a single flight is that it leaves you with some serious jet lag. I awoke at 2:30 AM and browsed the Internet for an hour or so before falling back to sleep; when I woke up again at 5:30, I gave in and just got out of bed. All of the field course lecturers were staying in the same hotel, so we met up in the lobby before shuttling to the airport to collect our students (strangely, unlike the other field trips I've been on, this one doesn't involve a single unified travel plan for everyone involved).
There seems to be some universal law stating that all field trips will begin with a transportation issue, and, indeed, our hired tour bus was a half hour late. However, it did eventually show up, and we were able to get all the gear and people loaded with remarkable ease. From the airport, we had a ~2-hour drive down to Barstow, where we were scheduled to pick up our rental van (needed for day trips) and make a grocery run.
For nearly the first hour of the journey, the scenery was pretty horrific: cement, billboards, commercial strips, and smog. Gradually, though, we moved away from inhabited/industrial/built-up areas and began to see ever more nature. Blue skies and sunshine would probably be enough to satisfy most Brits (and me, I admit), but they were only the tip of the iceberg; we could also see spring wildflowers beginning to bloom, leaves starting to emerge on trees, and, as we moved into the mountains/desert, some remarkable geological formations.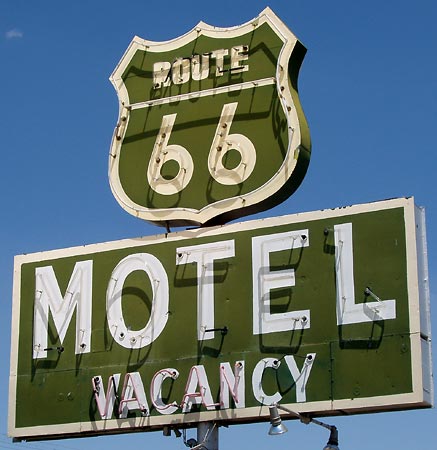 Barstow is full of amazing old signs like this. Sadly, we didn't get the chance to stop and photograph any, so this image is courtesy of The Lope.
Also strangely attractive was Barstow--in parts, anyway. We drove through town on old Route 66, along which you can still find plenty of diners and motels left over from the heyday of American motoring. The main street is heaven for anyone who loves vintage and/or Americana; there are murals and antique stores and shops selling greasy, high-fat dishes just the way Grandma (or...whoever) used to make them. Not so attractive is the strip, featuring every gas station and fast food chain you've ever heard of.
After picking up the van, Caitlin and I (yes, there were two Caitlins on the trip, and we are both American) rendezvoused with the others at the Barstow Walmart. I am responsible for suggesting this destination, since it seemed like the easiest and most logical place to stop for our grocery run: It is close to the rental office, it has a parking lot that can accommodate big buses, and it usually has a big selection of food and whatever other gear people might need when traveling. Also, it's a cultural icon, and I can't help but love the idea of taking British tourists to a Walmart.
Unfortunately, Barstow Walmart is not one of the superstores that has a huge variety of food and sells pre-made items that are perfect for hungry travelers needing some lunch. Instead, it's one of the old-school stores that always feels a bit dingy and seedy, and leaves you feeling slightly depressed for having visited. It was interesting to watch the expressions on the students' faces as they wandered around trying to locate familiar and/or useful snacks; I think that one or two might actually have gotten the impression that that Walmart was representative of all grocery stores in the US.
From Barstow it was another hour or so until we reached our home for the next several days:
Zzyzx
, location of the
Desert Studies Center
(DSC). Considering how remote Zzyzx is, it's really pretty remarkable that it is accessible via the type of road that a large bus can drive down. We had a couple of uncomfortable moments after encountering major potholes left by recent rains, but ultimately reached the Center unscathed. However, because the Center is very much an oasis in the middle of the desert, I couldn't help but feel a little vulnerable as I stood in the parking lot and surveyed the environment. Behind us was an imposing mountain, and on all other sides was a soda-encrusted dry lake. It was stunningly beautiful, but in a dangerous way; get lost or run out of supplies out here, and you'd be in trouble in no time flat.
Behind the DSC
Lake Tuendae, home to the endangered Mohave tui chub. We were explicitly asked to avoid interacting with the lake in any way, and what did our students do? Toss a football into it while playing catch...as though the only place to play catch was right by the lake's shore. *sigh*
Soda Lake at sunrise. Beautiful, in an austere sort of way.
As soon as we disembarked and unpacked our luggage, we were shown around the DSC and given a spiel about how things work there. The entire establishment is off the grid, so it is important for guests to understand how to conserve electricity and water. Also important is keeping an eye out for wildlife--whether of the cute, mischievous, and/or dangerous variety. There are many grey foxes in the area, for example, and they do not hesitate to wander through open doors and raid whatever food stores they find inside. Less enchanting neighbors include snakes, spiders, and scorpions, which may sometimes find their way inside shoes and sleeping bags and other places where they are not welcome.
Display in my room commemorating the time that Sir David Attenborough stayed there.
Once we had been thoroughly briefed about the DSC, we were free to move in to our rooms and explore the area; by chance, I happened to select the room where David Attenborough stayed when he visited Zzyzx. After depositing my bags, I went out for a walk around the lake, but I had to be brief since we were congregating before dinner to listen to student presentations. The study groups had put together some short but informative lectures about nature and culture in the Mojave Desert. However, interesting though they were, the presentations were hard to sit through because the jet lag was kicking in and I was beginning to fade fast.
Our reward at the end of the mini-symposium was a Mexican feast cooked up by our very talented chef, Vick. At dinner, the students were treated to their first taste (literally and figuratively) of American portions: Each person was given a mountain of food about twice the size of any helping you'd ever get in Britain. When I asked Vick for a smaller, half-sized serving, he gruffly replied that they were all the same size; it wasn't long before I was sharing my meals with the other Caitlin in order to avoid wasting food (and expanding my waistline).
After eating dinner (followed by a gourmet dessert of Twizzlers from Walmart), it was finally time to turn in for the day. Zzyzx is blissfully quiet--until the nighttime wind starts howling, anyway--and it is an incredibly peaceful place to sleep. Then again, pretty much any place suits the purpose if you begin your day at 5:30 AM. Even though we were just "roughing it" with sleeping bags and travel pillows, it still felt good to hop in bed and rest up in preparation for our first day of research in the Mojave Desert.